Travel Motors, AGVs and Manufacturing
Automation is driving industry competitiveness today, and the world is experiencing the changes in processes and management that have arrived with Industry 4.0. Transcyko is the travel motor manufacturer committed to leading the trend for improved transport automation. We aim to meet the new and changing requirements of our customers in Taiwan and overseas.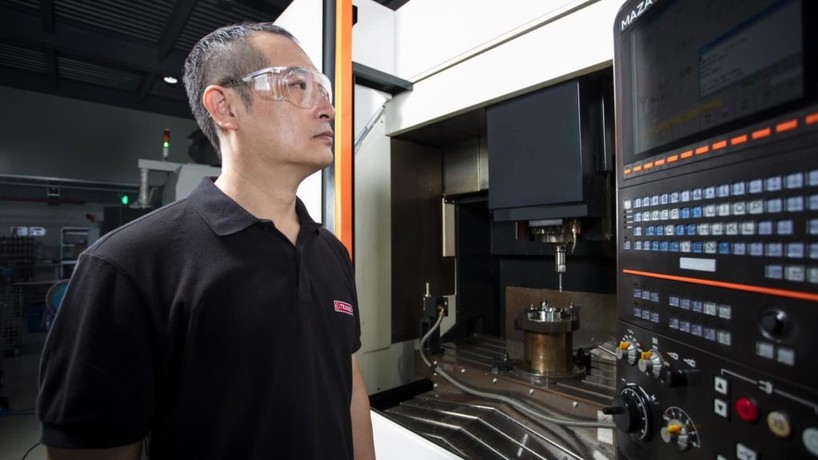 Transcyko, Brand of Choice for Travel Motor Systems
Transcyko is a world leading manufacturer of Cyclo Drives for travel motors. We are the best brand of travel motor manufacturer in Taiwan, and the brand for our global customers prefer.
Transcyko Provides a Wide Range of Travel Motor Solutions
In a four-wheeled transportation system, the versatility and high power of Transcyko travel motors offer many possibilities. A four-wheeled system may have only one, two, or three active wheels driven by travel motors. It is not necessary to drive all wheels, and additional motors can be added later if customer requirements change.
Transcyko Offers Easy Upgrades
It is easy to upgrade platforms fitted with Transcyko travel motors because of our modular designs. Robotic controls can be included, travel motors added, and wheels can be made of any material to suit the road surface; most commonly rubber, steel or plastics.
Transcyko Travel Motors are Based on our Tried-and-tested Cyclo Drive Designs
Transcyko cyclo drives are well known for their desirable characteristics. They have several features that make them ideal for our cyclo drive travel motor products.
Why are Transcyko Cyclo Drives so Suitable for Travel motor Systems?
Distributed Load

Easy maintenance and repair

Peace of mind for mission-critical operations

Travel motors are reliable 24-7 by design
Distributed Load
Load is distributed across the moving parts, with up to seventy percent of the drive elements in contact at any time. In comparison, in helical and worm gears, this might only be five percent.
This makes cyclo drives much stronger and lighter than traditional gear systems built for the same purpose. Alternatives to Transcyko drives are bigger and heavier, harder to install and expensive to maintain.
Easy Maintenance and Repair
Gear elements are light and strong, and modular construction means drive parts can be replaced without expensive delay. Transcyko also manufacture a wide range of cyclo drive components in standard sizes that are used by other drive manufacturers.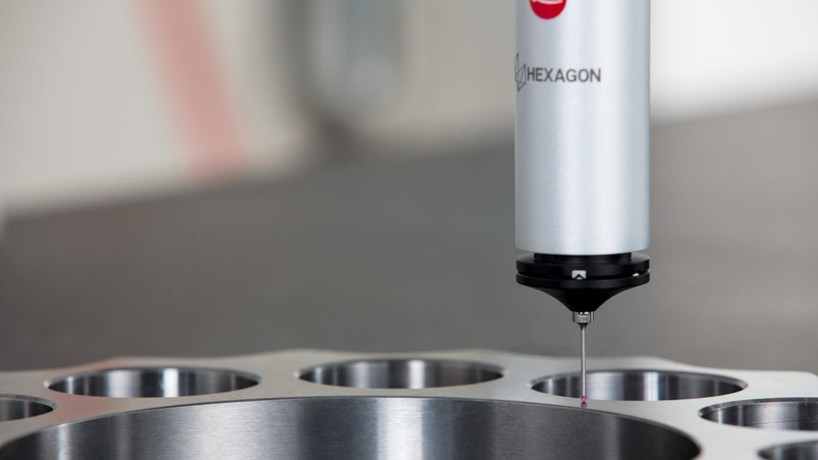 If a customer already has cyclo drives from another manufacturer, we can offer high quality Transcyko parts to repair and upgrade existing equipment. We provide local servicing support, so using Transcyko components for maintaining all brands of cyclo drive is a sensible and cost-effective choice.
Peace of Mind for Mission-critical Operations
Other drive systems have only single points of contact between working parts – if gear teeth break, the system fails, and often causes additional damage to other machinery. Transcyko customers can stop worrying about drive failures that cause expensive delays in productivity.
Travel Motors are Reliable 24-7 by Design
The heavy-duty cycloid components used in cyclo drives are designed for continuous use, day and night, because they are very reliable compared to traditional gear drives. Cyclo gears wear slowly and predictably and will continue to work until a convenient time for maintenance. Because cyclo drives do not fail suddenly, maintenance can be planned to suit the customer.
Cyclo drives lower customer costs, and will not stop production.For mission-critical systems, and especially for continuous production lines, cyclo drives are the best choice.
How is Transcyko Supporting the Industry 4.0 Revolution in Logistics?
Transcyko Cyclo Drives are ideal for travel motor manufacturers to build reliable logistics systems, especially for warehousing and material transport. In the past, customers have relied on forklifts and other unreliable manual equipment for transport requirements. Efficiency and value have been held back by the errors that result, and employee costs are significant. The Industry 4.0 revolution has made robotic solutions the most cost-effective way to replace traditional ways of working.
For the latest Industry 4.0 travel motor uses, our customers need to feel confident about their equipment choices. In this competitive world, customers cannot afford sudden stops in production caused by equipment failure. Cycloid gear solutions offer peace of mind compared to the other options.
Applications of Transcyko Travel Motors In Manufacturing
At Transcyko we design and manufacture cyclo drives for many uses. A leading use of travel motors is to drive Automated Guided Vehicles (AGVs). We recently delivered a large consignment of travel motors to a customer who uses AGVs continuously 24-7. The customer requirement is to be able to move heavy items between locations on a large industrial site to a tight schedule. Transcyko travel motors were the perfect choice as our travel motors offered the customer the flexible installations they required. We met the continuous operation requirement because our cyclo driven travel motors are reliable and durable.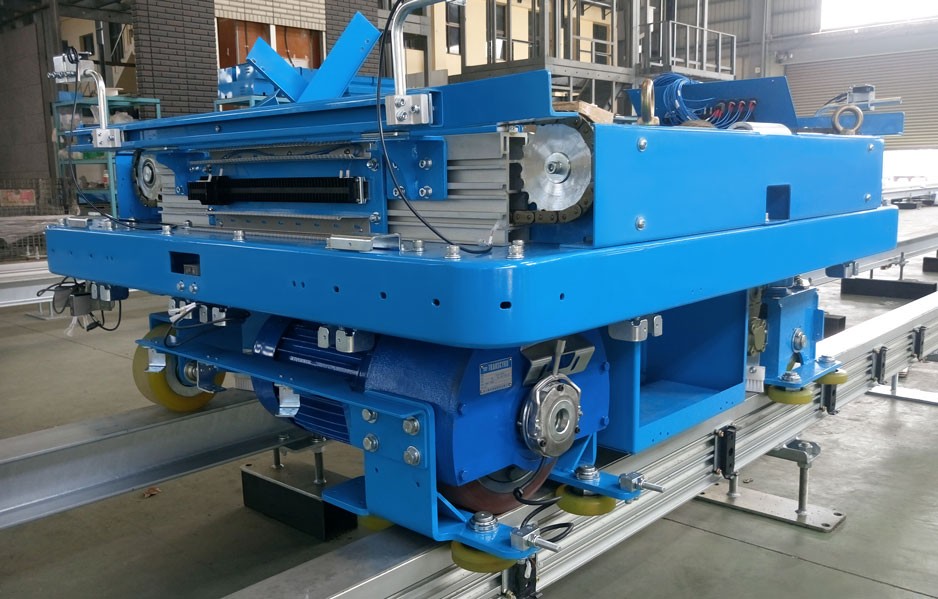 Flexible Uses
Travel motors offer excellent flexibility in automated guided vehicle design. As remote operated vehicles, AGVs need to be reliable, easily controlled, and easily upgraded to meet future changes in customer demands.
Reliability Guaranteed
One of the reasons that the customer chose Transcyko products was that our cyclo drives are so reliable. The customer wanted to be able to maintain continuous operations twenty-four hours a day without worrying about sudden failures that might stop the production line.
How are Automated Guided Vehicles Used in Industry?
Transcyko travel motors power automated guided vehicles for a wide range of industry applications
Raw Material Handling

Roll Handling

Assembly Lines

Delivery of Supplies

Transporting Finished Products

Pallet Handling

Fully Automated Systems
Travel Motors for AGVs in the Steel Industry
Transcyko cyclo drives are the preferred choice for AGV travel motors used in a wide range of industries. Steel manufacturers and processors prefer our products to meet their requirements for material transport. Steel industry customers require fail-safe, reliable equipment to maintain continuous production. Transcyko travel motors are the best solution to guarantee the smooth running of the AGVs they rely on for 24-7 operations..
Transcyko Travel Motor Product Efficiency = Customer Satisfaction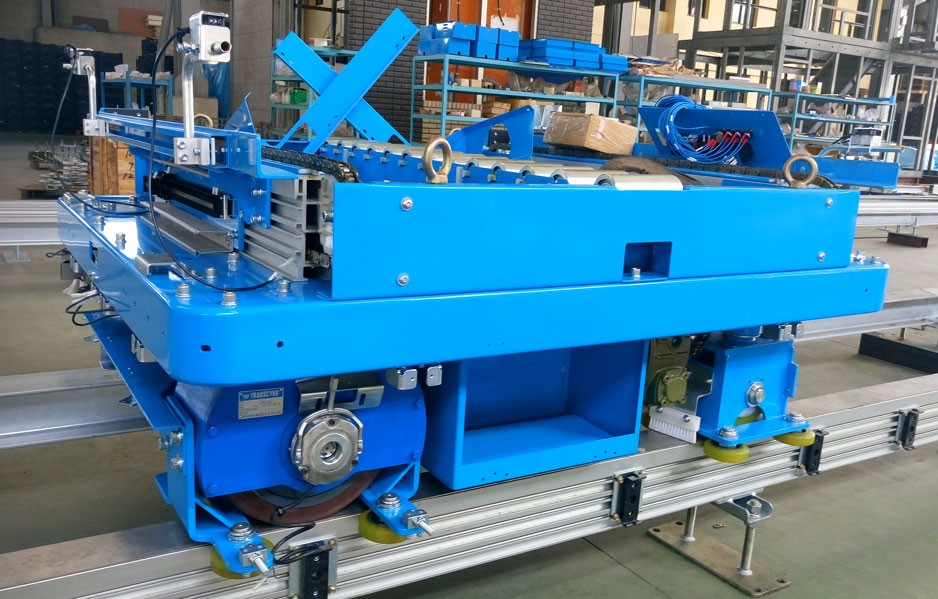 We understand the need to operate more efficiently and reliably than competitors is becoming increasingly important with the Industry 4.0 revolution. End customers can expect to have real-time information on supply chain logistics, because computer control, communication and monitoring systems are shared online. End customers will see if there is a delay caused by uncontrolled stoppage.
Cyclo drives are the best choice for peace of mind when you require drives for travel motors, pumps, conveyor drives, or any other use requiring speed reduction. Using Transcyko cyclo drives provides additional proof to your customers of your commitment to delivering quality on time. AGV applications of Transcyko travel motors that use our Cyclo Drive units combine all the best features of our technologies to provide unbeatable, efficient and cost-effective solutions for customer needs.
Please Contact Us to see how we can help to meet your travel motor requirements.